Cylinders Holding is a Czech company that has been continuously producing pressure cylinders for more than 110 years. After massive investment, it is a global producer with the largest share in the European steel cylinder market. The company's export targets all the continents. In selected territories, the holding builds not only a market position but also new production facilities.
The company has undergone significant developments thanks to its current owners. Nowadays it operates four lines for the production of extruded cylinders in Ostrava, Czech Republic, and in Sosnowiec, Poland. In Ostrava, there are also two lines for the production of tubular cylinders. It also has special technology for the production of pressure tanks for hydrogen and technical gases as well as atypical pressure systems for hydraulic applications. Cylinders Holding builds on development – whether new technologies in automotive, such as CNG and hydrogen pressure systems, or new patented technology in tool making and original technology for moulding processes for rotary hollow products.
The stormy development dates back to the 1990s, when the company devoted itself to the transition from the 150 bar system to the 200 bar cylinder system. At the beginning of the third millennium, it was a key global player to switch the gas distribution system to 300 bar. It has maintained this position to this day. In 2008, the company developed and built a new technology for production of cylinders up to 406 mm in diameter by backward extrusion. It is a unique technology, even on a global scale. Not only have complex shaping processes been developed, but also latest technologies have been used. An important step was the acquisition of two German production lines – the best technology for the production of steel tube cylinders at the time. Due to a combination with our own unique equipment, an absolutely unique tube cylinder production has emerged, unparalleled in the world.
Technology for the production of cylinder bundles for the automotive industry and various CNG applications was built in Sosnowiec, Poland, in 2017. This technology uses a new APS Extreme coating system, while also treating internal surfaces, and includes a robotic helium test.
Cylinders Holding is currently committed to the Cylinders 4.0 strategy because it is aware that new technologies, new value-added products, original special services and robotization of processes will be key parameters for development of new supply systems in the future.
Cylinders Holding builds its future on the principles of the circular economy. Mobile and virtual gas pipeline systems developed by Cylinders Holding confirm that there are comfortable, environmentally friendly and economical top-quality solutions that reduce the burden on our planet.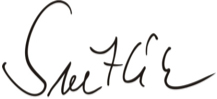 Ing. Jan Světlík
CEO of CYLINDERS HOLDING a.s.